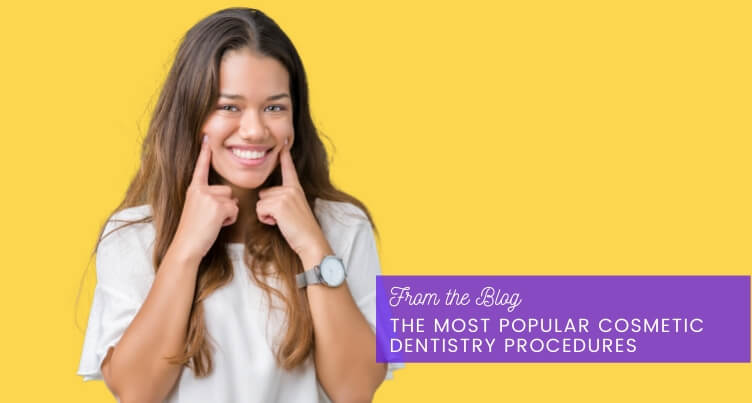 More and more people are looking for ways to improve their appearance. And it isn't all about vanity. Our smile is a social asset with the potential to improve or even derail one's career.
Today, cosmetic dentistry is practically routine. The results can be truly transformational. Here are the most common procedures being performed today:
Teeth whitening

Dull, discol[o]red teeth tend to make us self-conscious about our smile. Whiter teeth can give you a boost as you interact with colleagues. Professional whitening tends to resolve stubborn stains better than home whitening kits. Plus, do-it-yourself whitening can often cause damage to nearby gum tissue.
Porcelain Veneers

Porcelain veneers are super-thin, custom-made shells of tooth-col[o]red ceramic. They are bonded to the front surface of a tooth to improve appearance. Porcelain veneers provide strength and resilience. Plus, they tend to better recreate the look and feel of real teeth.
Porcelain veneers are often recommended for:
Uneven teeth – Improving the alignment and appearance of your smile.
Teeth stains – When yellowing isn't correctable through teeth whitening.
Worn enamel – When tooth enamel has become dangerously thin.
Chips and cracks – Veneers can hide cracks, chips and nicks.
Unusual spacing – To artistically fill in gaps between teeth.
Invisible Braces

Clear aligners offer a discreet approach to straightening crooked teeth. They avoid the mouth full of wire and brackets of traditional orthodontics. Like regular braces, there are strict recommendations for their proper use. Plus, they require careful cleaning. Both must be worn day and night, however clear aligners are removed for eating. Treatment times typically average about a year and a half.
Gingival Contouring

This is a common treatment for those who have what is considered a "gummy" smile. That's when an excessive amount of gum tissue is exposed when smiling. Excessive gingival display tends to be more common among women than men. There are several treatment options. Certain cases may include the use of a laser to shape the gum tissue. Sometimes traditional orthodontics is used. Some cases require surgery of the upper jaw, face or lips. Periodontists, orthodontists or oral surgeons usually perform gingival sculpting.
Direct Composite Bonding

Bonding is the process of attaching fillings, crowns and veneers. The composite is a plastic and glass mixture. It is strong, durable and easy to form. A tooth-col[o]red composite is used to repair decayed, damaged or discol[o]red teeth. Direct composite bonding is employed to repair chips, cracks and small gaps.
Porcelain Crowns

Crowns straddle the line between restorative and cosmetic dentistry. A porcelain crown helps keep a cracked tooth intact. Plus, its natural col[o]ring provides improved aesthetics over other materials. Although durable, porcelain crowns may not be advisable for certain areas of the mouth.
Implants

Dental implants offer a permanent solution for replacing one or multiple missing teeth. If you're missing teeth, you've probably imagined what your smile would look like if it were fully restored. Implants feel natural and look great. They are maintained just like your natural teeth. When properly cared for, dental implants can last a lifetime.
Are you considering one of these cosmetic dentistry procedures? As part of your research we encourage you to see us for a consultation. Let's discuss what you're hoping to achieve and explore the best option for you.